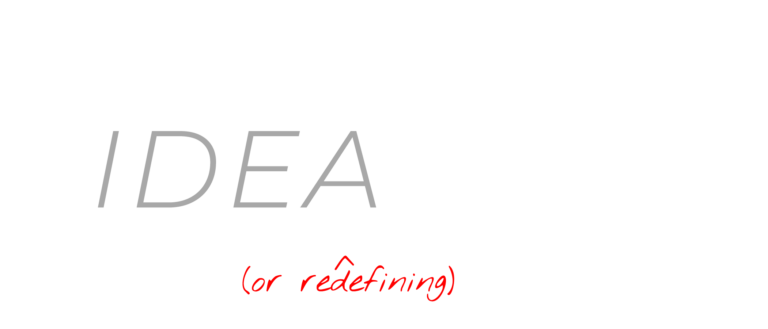 Let me guess — You have a business idea but you're stuck wondering if it's viable or you keep pondering the question, "Where do I start?"
When most people get in this space, they usually do one of two things: either they start Googling and asking entrepreneurs they know for advice, or they do nothing because the thought of trying to start a business with no prior knowledge seems cumbersome — you know, the old "fight–or–flight" response.
Googling or asking for advice can have value. However, depending on these means alone falls short because, regardless of how much information you find online or how experienced an entrepreneur is, the information or experience is tied to someone else's identity. So, I can almost guarantee that you'll feel misaligned at some point. As for doing nothing — well — doing nothing does nothing! Starting the business only seems colossal because you've not yet tapped into the power of your identity.
Fresh IDEAntity is an opportunity to unlock the possibility of building on YOUR idea using YOUR identity!
Let's develop your


Fresh IDEAntity together!
Fresh IDEAntity is a live, interactive virtual course, where new (or redefining) business owners can receive real-time feedback and support as they develop (or redefine) identity-aligned businesses.
Key Concepts

Key Concepts
Here's what we'll cover in
Fresh IDEAntity

...
Who am I?
We will begin the course with a truncated version of the signature Identity Storyboarding process to take steps toward uncovering who you are at your core.
Who is my idea for?
We will take some time to deep-dive into your idea to find out where is comes from, what it's connected to, and who it's meant to serve.
How does my identity connect to my idea?
Once we've finished connecting all the details, we will start shaping your business's messaging, mission, and values.
You will walk away from this course with the tools for developing the mentality of an identity-aligned business owner.
How much is


Fresh IDEAntity?
The cost for
Fresh IDEAntity

is $50.
This fee includes the 2-hour virtual Fresh IDEAntity course and a 20-min follow up call.
Register Now

Register Now
Fresh IDEAntity

will return in January 2022.
Monday, January 10, 2022
5:30pm to 7:30pm (EST)
"Oh no! What should I do?"
If you're interested in participating in the next round of Fresh IDEAntity, you should fill out the form below. This will place you on the waitlist so that you're among the first to know when new dates are available.
What past students


are saying about Fresh IDEAntity
"Michael is engaging and insightful. He created an atmosphere that promoted education and enlightenment, while also making the space comfortable for dialogue and sharing."
Michelle Weston
Family & Social Advocate
"I [had] been really stuck on how to create a product. I know who I am and whiat I have to offer but when Michael asked me, 'How do you want to present it?' it was the first time I'd ever realized where there was a gap and what had me stuck."
Aishah Hunter
Executive HR Professional
"THANK YOU! This morning [during Fresh IDEAntity] was one of the first time that I was able to begin articulating what I want to do and figure out exactly how it relates to my values. Lots of 'AHA' moments."
Alecia White
Executive Administrator